6 Creative Baby Shower Gifts for Guys Because He's Important Too
Whether he's a new dad or he's expecting his fourth child, men deserve a little something for when they're expecting. Make sure you've got a special gift to mark the occasion or something funny to ease the stress.
With men's baby showers and "Dadchelor" parties on the rise, getting gifts to impress will take extra thought and detail! Our ideas may spark your creativity, but don't be afraid to take it a step further with added personalization
Use our 6 creative baby shower gift ideas for guys below to say "You've got this, and we've got your back!"
1. Stylish Diaper Bag
Give the "dachelor" a practical gift that doubles as a stylish (and disguisable!) accessory. Go for a custom backpack instead of a bag so dad can carry it easily on the go and use it for his own items down the line when baby outgrows their diapers. 
2. Spill-proof Tumblers + A LOT of Coffee
Any parent should expect to be running on caffeine when they've got little ones keeping them up at all hours. Get a custom tumbler that's engraved with a funny or sentimental note to prepare dad for the long days and nights ahead.
To really give dad an energy boost: Throw in a bag or two of his favorite blend!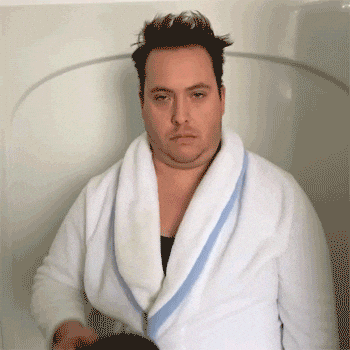 3. A Sturdy Carrier
Having a baby means you will rarely be hands-free because both mom and dad will be carrying baby around everywhere. Help dad multitask with a sturdy baby carrier and go for a stylish look and color that dad will be proud to wear to the baseball game, park, and neighborhood BBQ.
Plus, we all know how undeniably cute it will be to watch dad and baby bond as he shows the little one off to all of the neighbors.
4. Keepsake Onesie for Baby
Give the father-to-be a gift that gets him excited and makes him feel like an important part of the journey.
With all the focus on mom and baby, it will be important to make sure dad has something to open that is special between him and his child. Watch his face light up when he opens matching tee-shirts for baby and dad, or a onesie with a special date or saying like "first son" or "daddy's girl". 
5. Gifts that Keep on Giving
Get a gift that dad can cherish as his child grows up and re-gift to his child on a special occasion in the future. Try these options, and don't forget to explain the thought behind the gift to the expecting dad!
Picture Frame:
Give a custom picture frame with a special date or quote along with a picture of dad kissing mom's belly at the shower. Then help dad re-gift the frame in a thoughtful way, by adding special instructions in the note of this gift to:
Take a new picture with your child each year on their birthday
Place the new picture in the frame every year
And give it as a gift on a special occasion (graduation, first day at work, wedding, etc)
Engraved Flask or Barware:
Help dad cheer every moment in his child's life! Engrave a flask or a beer stein with a date or quote, and attach a card prompting dad to hold onto it for a special moment in the child's life like their wedding or first child. 
6. Books He Wants to Read to Baby
Dads may try to deny it, but most love to be silly and get into character with their children! Get dad a few books he can play along with and use his "manly" voice to entertain his little one.
This is also a great way to expose baby to a variety of books on topics that interest both mom and dad. Why is that great? Because it helps their child grow up without typical gender stereotypes so they can learn different lessons and enjoy a variety of storylines!
Something for Every Father-to-be
From funny baby shower gifts for dad to gifts they'll use even after baby grows up, give a gift they'll cherish as they watch their child grow. Shop our wide selection of
personalized gifts
and customize them with a personal saying, date, name, or even dad joke ... because we all know they've got to start somewhere!
---